Post by ksm on Jun 14, 2017 22:07:39 GMT -5
Hey Guys. Yes, another front license plate mount solution for the Elise. I've been meaning to post this somewhere for years. Made it three, maybe four, years ago and it's what I continue using every day.
The story is that I had looked at already-produced solutions out there and just couldn't find one that met my particular requirements: that mounted the plate at the position I wanted and that worked with my front splitter and mesh and, of course, that didn't require holes drilled into the bodywork. What I ended up doing was using a combination of the OEM front plate bracket, tow hook and an aluminum (aluminium, in this case?

) bar.
Here is the final solution:
And here's how I made it:
Below is the OEM bracket, modified as follows: (1) I used a rotary tool to cut off and make flush the bolt shafts; (2) As you can see, I also cut away the bottom portion of the area that had been originally designed to mount to the car. I did this because I had been thinking that I would mount the license plate a lot closer to the plinth than you'll see in the photos.
Next, I bent an aluminum bar into the shape I wanted to help position the bracket. Below is the aluminum bar, which I picked up at a local hardware store: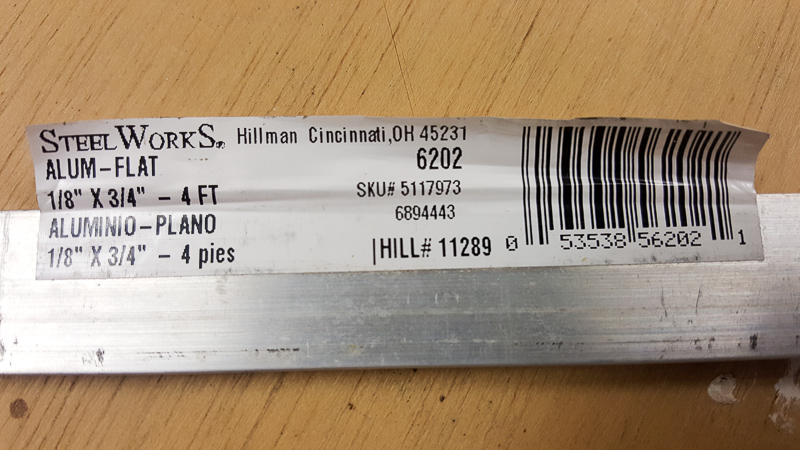 When coming up with the shape, I first used a piece of paper followed by a much thinner piece of aluminum, which I could easily bend by hand. Once I was happy with the shape, I then bent the final aluminum bar and cut it to length. After that, it was just a matter of drilling holes and bolting everything together. For the part of the bracket that I had cut away, I had also been thinking that I would as well cut away the lower half of the license plate mounting points; but I decided that that would end up being flimsy. So, I kept all four points.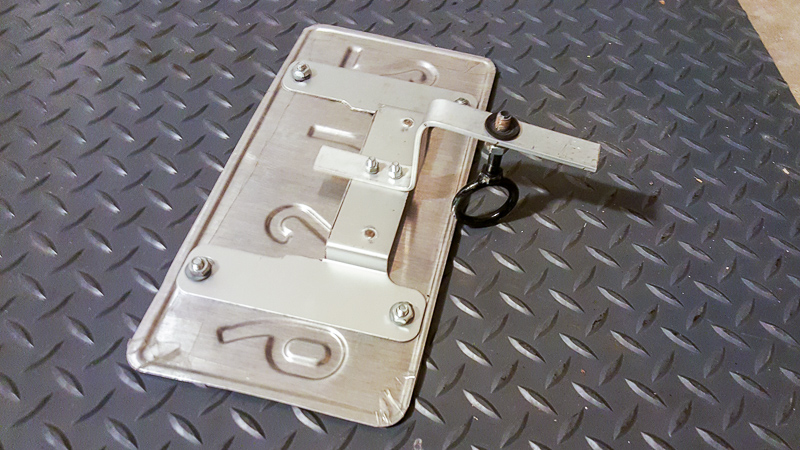 Here's a close-up of the aluminum bar bolted to the bracket. I used lock washers for all of the bolts: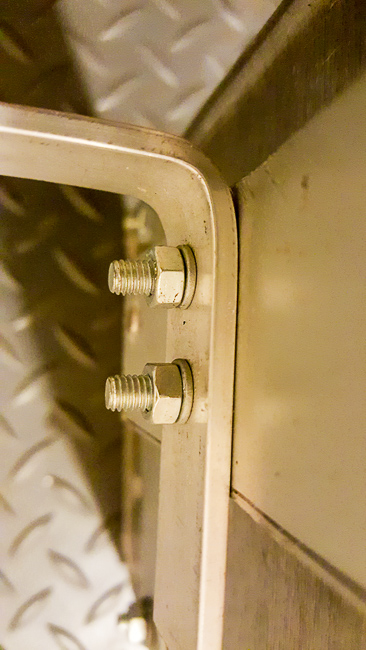 So, below is the hardware that I wound up using to bolt the entire thing into the tow hook mount. It's a rubber washer, which goes towards the car, the aluminum bar, a lock washer and a nut, which acts as a spacer (the tow hook itself won't screw in far enough). I'll admit that it's probably not the best hardware to use; however, it's what I had at arm's reach at the time I wanted to bolt everything together to see how it looked. Once everything was bolted together, it looked like it would work as-is. So, I kept it. One of those temporary solutions that grew into something permanent. I've had it like that for years. And, oh yes, it's been velocity-tested. I initially planned to use something to stabilize the assembly across the top of the plinth to minimize rotation; but rotation is rare and minimal. Though, definitely not without maintenance. I check the tightness pretty much at the start of each day. Sometimes, I have to straighten the plate a little. Though, I've only ever had it go crooked by a couple degrees after hours of highway speeds. I'll look at it and, if I notice that it's not exactly in line with the splitter, then I'll align it a little. I had initially planned to use a bolt having the same thread as the tow hook/eye instead of using the tow hook itself. But, with using the tow hook, I can remove the entire bracket in about 10 seconds (if worried about theft, use the bolt). Takes a little longer to re-mount just because you want to make sure everything's tight and straight.
Here are some additional views of it mounted to the car: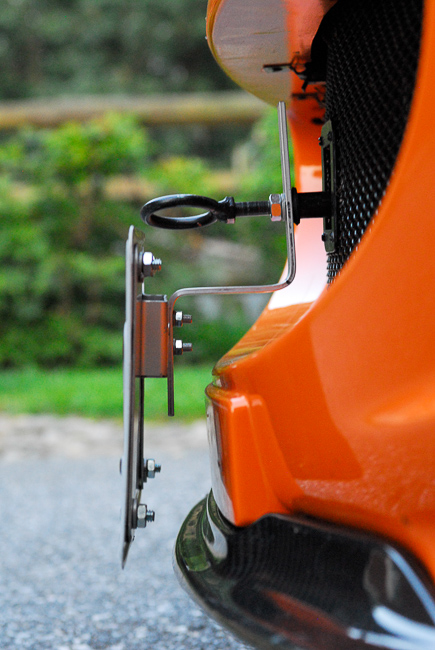 It kinda looks like that bottom portion of the aluminum bar sticking below the bracket needs to be cut off. And, I think I had intended to do so. But, once it was mounted and working, I called it "good enough for now" and, well, that was it. And you'll see in the photos the Sharpie marks. Leaving them on there as well as the whole Erector Set after-thought look of the assembly was my protest of us needing to have a front license plate.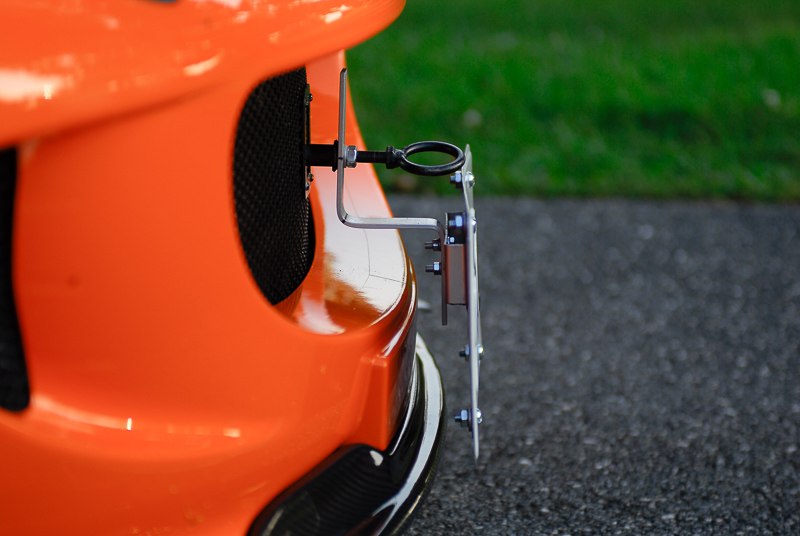 I know it looks like that, as you drive, the assembly's going to bend inward; but the aluminum bar is pretty strong. It's not absolutely rigid. There is a little bit of give, flex; but it's pretty firm and I've seen no evidence of it hitting the car.
From the top: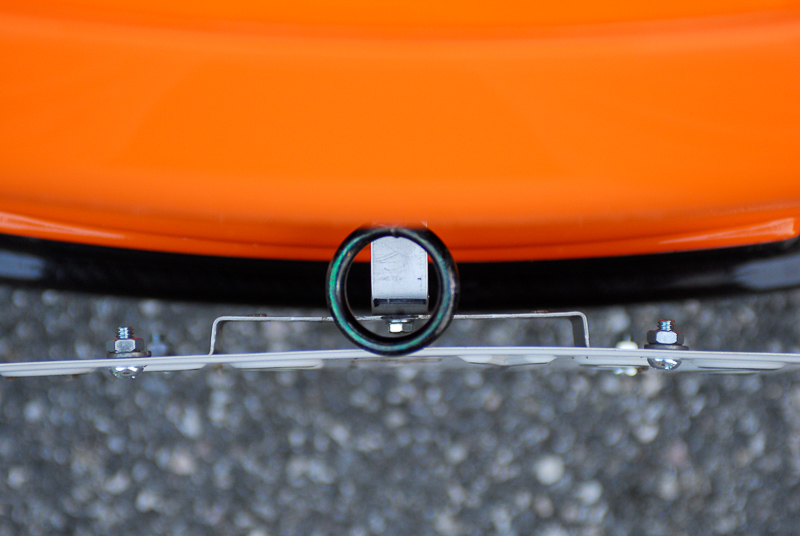 Head-on: